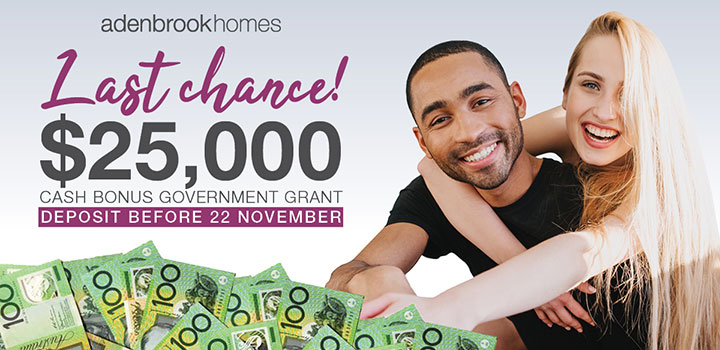 As 2020 fast approaches its end, so too does the Federal Governments Home Builder Scheme. New home buyers need to act now to take advantage of the $25,000 HomeBuilder Scheme ending 31st December 2020. Eligible new home buyers wanting to build with Adenbrook Homes must deposit before 22nd November 2020 to allow time for contracts to be finalised before the cut-off date!
First announced as economic response to the Coronavirus pandemic, the HomeBuilder scheme has been an incredible stimulus to the residential construction industry. Of over 11,000 HomeBuilder applications Australia-wide, 78% have come from New Build residential construction. Owning your first home, dream home or forever home has never been more attractive or achievable. Regional and coastal areas have since seen a boom in house and land sales, with registered land selling out across newly released housing estates, with titled land becoming more and more scarce. Buyers must enquire now to secure their perfect home and land!
For first home buyers, other Government Grants remain in place for eligible buyers including the First Home Owners Grant and the First Home Loan Deposit Scheme, making buying your first home a reality.
If you have been considering buying a new home, now is the time to act so you can build and SAVE! Take advantage of the $25,000 cash bonus so you can really stop dreaming and start building.
There has never been a better time to buy a new home than now!